Our signature program, Operation School Bell® was born in the 1950's, when a teacher in Los Angeles saw children from one family coming to school on a rotating basis. Upon discovering that the children came based on whose turn it was to wear the only clothes they had, the teacher gathered castoffs from friends and family and began what has since become known as Operation School Bell.
Last school year Operation School Bell® served more than 26,000 students enrolled in 87 schools form 14 Tulsa-area school districts. OSB provides new clothing in a store type atmosphere at their headquarters at 11th & Harvard. Members of Assistance League® Tulsa assist each student in selection of clothing in proper size and fit. Students are referred to Operation School Bell® by school counselors.
Tulsa Public Elementary School students receive a total of 3 outfits including 2 uniform shirts, 2 uniform pants or skirts or jumpers and 1 top and 1 skirt or pant of their choice.
Students in 13 other school districts receive a total of two outfits including 2 tops and 2 pants or jeans or skirts of their choice
All students attending Operation School Bell receive the following as well:
Pair of new shoes
Jacket
Sweatshirt
Belt
T-shirt or Tank Top
6 pair of socks & underwear
Grooming kit
2 Books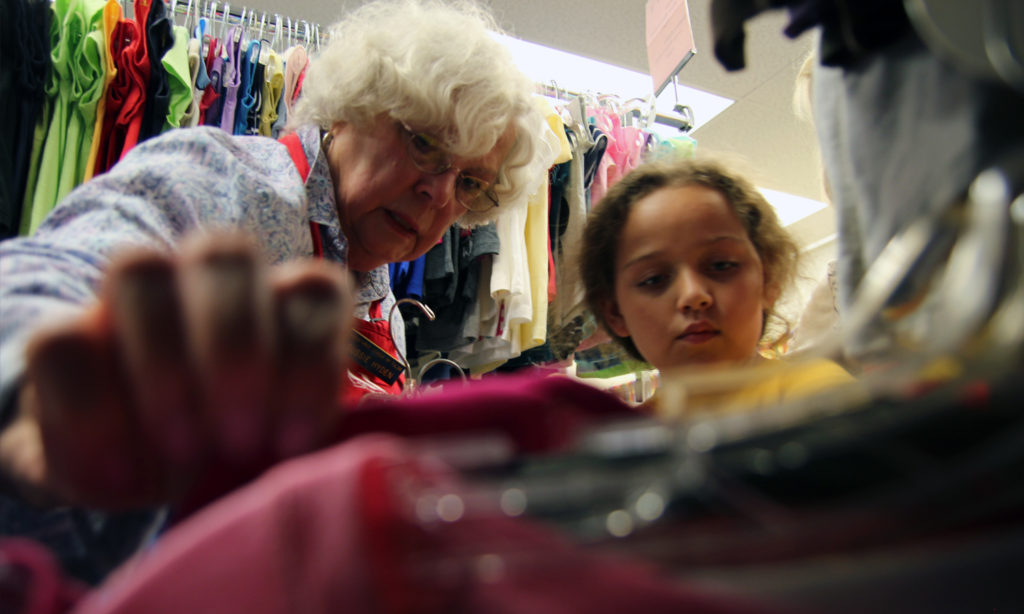 Operation School Bell® provides clothing, shoes and books, as well as other household items from Bargains Resale Shop, to children and families in need of emergency assistance.
Beyond the tangible and practical benefits of supplying such necessities are the more important intangibles received by the children served, our donors and our volunteers. Imagine the pride and self-esteem felt by a child trying on the first new clothes he or she has ever owned … the joy felt by the many volunteers and donors that have made such a gift possible. Above all, the life lessons of service, compassion, and empathy passed on through Operation School Bell's caring and commitment in action.
A little girl shyly said, "I always get my cousin's old clothes. Do I really get a pick out new clothes?"
A 10-year-old was excited when he got a new pair of shoes three sizes larger than what he was cramped into and started jumping up and down saying, "Now I can play basketball without my feet hurting! I get to play with my friends!"